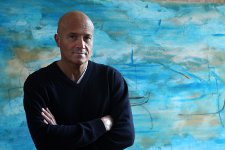 Raffaele Rossi was born in Alba (CN) on 20 May 1956.
In 1975, after studying at the Liceo Artistico in Novara, his love of Venetian old masters took him to Mogliano Veneto (Province of Treviso) where he was to live for some years, holding his first solo exhibition there in 1978.
During this period he studied copperplate printing at the Scuola Internazionale di Grafica in Venice as well as taking life drawing classes.
Attracted by historical painting techniques he began to attend the "workshop" of two Venetian painters, Valeria Rambelli and Ottone Marabini, where he learned to grind and blend pigments for use in egg temperas and oils, and prepare panels and canvases, acquiring a passion for old techniques and materials. His fresco-making experiences inspired a love of intonaco and textured surfaces that would culminate in the present stage of his artistic career involving use of unusual inert materials like marble dust, sand and natural glues.
He lives and works in Sant'Ambrogio di Trebaseleghe in the province of Padua.
He has works on permanent display at the following places:
Galleria d'Arte Moderna di Palazzo Sarcinelli, Conegliano TV; Italy. Museo dello Splendore, Giulianova TE; Italy. Credit Suisse, Hong Kong. Bank Julius Baer , Hong Kong. Bank Sarasin&Cie Ag, Hong Kong. Hotel Sheraton, Hong Kong. Frescoed room at "Son Apau", Azahar Jardineria y Riegos, Palma de Mallorca ; Spain.
Lo studio